Coco & Co. Coconut Oil
When we were approached by Coco & Co to share their fabulous beauty-grade coconut oil with you, we knew we had to act quickly to get this amazing product into our lineup. Not only is it wonderful for your hands and nails, but it can be used on just about every part of your body!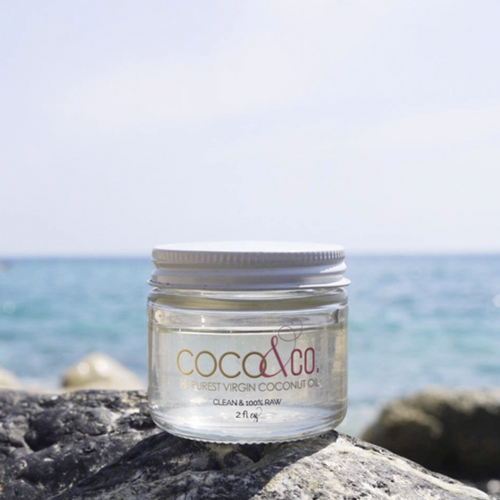 Stop using cooking oil on your skin - Your skin deserves this!
Many have heard of the benefits of coconut oil for cosmetics and health. However, other quality coconuts oils are made from a traditional low-quality process. Many cosmetic & health users often complain about the 'greasy' feeling similar to petroleum and an unpleasant taste. Say BYE, BYE to your yellow "Coconut Oil"!
The good news is that COCO & CO.'s Virgin Coconut Oil at it's purest offers the lightest taste and a thin, velvet smooth consistency for cosmetic use. They use the freshest coconuts no older than three days and use a special method of extraction.
In other words, This coconut oil is silky smooth, crystal clear and wont go rancid! Their special process preserves all the essential nutrients beneficial for your hair, skin and body.
COCO & CO. has been the top selling, highest rated coconut oil for beauty since 2014 and ranks consistently at the top in blind taste, smell and feel test!
BENEFITS + HOW TO USE

COCONUT OIL FOR YOUR SKIN
Are you ready to stop spending a crazy amount of money on your moisturizer? If you answered yes, then read on. Coconut oil is the perfect substitute for your daily lotion. Not only is it much cheaper than many brands you would find in the beauty aisle, but it's also all natural unlike the lotion that you might be using now.
If you want super soft skin, then use coconut oil and watch your dry skin transform after just the first application. For the best results, use coconut oil right after your shower. It's perfect for your whole body, including your chapped lips!
You can also use coconut oil for your daily makeup remover. It's a breeze to take off even waterproof mascara, using coconut oil! Rub a small amount in between your fingers and then apply to your face, rubbing in a circular motion, afterwards just rinse your face with warm water. There's no rough scrubbing required, so it's the best solution for your delicate eye area.
COCONUT OIL FOR YOUR HAIR
Is your hair in need of some moisture? If your hair is more dry and dull than you'd like, try Coco & Co. coconut oil as a deep conditioner. Coconut oil penetrates deeper than any conditioner that you can buy at the store. Since coconut oil is solid until it reaches 76 degrees, you'll need to scoop a small amount into a separate jar or bowl and run it under some warm water to bring it to its liquid state. After it's in its liquid state, follow these simple steps for the ultimate at home conditioning treatment.
It's best to use this conditioning treatment on clean hair, so if you haven't already, wash your hair.
Start off by applying the coconut oil at your roots, and work it in thoroughly while making your way down to the ends.
Put your hair up in a shower cap (if you don't have a shower cap, don't worry, use a plastic bag!) and let it soak in for an hour or two. The longer the better! Perhaps you can use this time to do your mani!
All that's left to do now is lather, rinse and repeat! Style as usual, and enjoy your beautiful tresses!
COCONUT OIL FOR YOUR NAILS
And the part we care about the most, here at Lantern & Wren! Want to strengthen your cuticle and moisturize your hands all at the same time? Before bed every night, rub a small amount of coconut oil on your cuticles and hands. It's perfect for beautiful looking nails and can even help promote nail growth!
A little bit of coconut oil goes a long way, so be sure to start off with a small amount and apply more if needed.



WHAT DO USERS SAY?
One reviewer says, "It has a silky, soft , smooth feel with a satin finish. It melts quickly onto the skin and a little goes a long way. I use it as a night cream, day cream, under make-up or alone."
"Q: Will this make your hair grow?
A: Yes, VERY GOOD FOR HAIR GROWTH & THICKER HAIR. Proper care is the #1 factor for hair growth and coconut oil is the best. Fatty acids work with proteins in hair to prevent breakage, allowing it to grow. Boosts circulation when massaged into hair, oxygen and nutrients will be sent into your hair follicles stimulating growth. Moisturizes, coconut oil is the best at penetrating hair. Also protects follicles from heat and other damage as Coconut has natural UV protection with low SPF. It's also antibacterial and rich in nutrients such as Vitamin E, K and Iron."
"Q: Will it work with eczema?
A: Yes! Definitely! I have extremely dry, itchy skin on my legs in the Winter. Since using this coconut oil, I have not had any flare ups. My skin is smoother to the touch and less dry and itchy. Would definitely recommend this coconut oil 100%."
KEY FEATURES

STOP using food grade coconut oil on your skin!
-100% Raw and Organic
-The ONLY high grade coconut oil specially for health and beauty
-Non Greasy - Silky Texture and Super-fine for fast absorption
-No Foul Odor or Taste - 100% Clean taste and smell
-No Discoloration -100% Exceptional Purity
-Safe for Oral & Cooking Uses

HUGE VARIETY OF USES
Exceptionally High Standard VCO made for Beauty and Health. Ideal for the following uses: BEAUTY: Hair, Make-up remover, Moisturizer, Massage oil, Stretch Marks, Acne, Wrinkles, Lip Balm, Shaving Cream & After Shave, Age spots, etc.
PERSONAL & HEALTH: Personal Lubricant, Oral Care, Anti-fungal, Eczema, Deodorant, Cooking, Fitness, Dogs, Pets, etc.